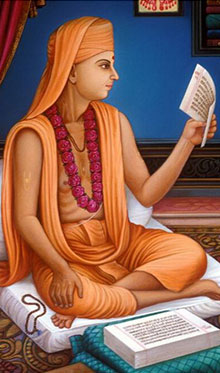 The rising sun of the 8th day of the bright half of Magh month of Vikram Samvat 1837 in Todla village 15 kms from Idar (Shamlaji) in the State of Gujarat saw the birth of Gopalanand Swami who illumines this religion with his sun-bright radiance. Born of father Motiram Sharma and mother Kushaladevi, his childhood name was Khushal Bhatt. In spite of being married his attitude remained desireless and renouncing. He pursued deep study of grammar, Indian philosophy of Nyaya and Vedanta and logic and he was widely popular as a profound scholar. He had started a (pathshala) residential school to benefit the needy students with his knowledge. Being a Mukta miracles were at his finger tips, as he was capable of teaching lessons of non-violence to the fierce animals like tigers and lions and made them humble by catching their ears and would make aggressive snakes gentle. He removed pain and misery from the lives of many souls. He exposed the pretending imposters in religion. He came to know from the Brahmins Kashiram and Murlidhar of Balasinor (District Kheda, Gujarat, India) that Purushottamnarayan has manifested upon the earth. Khushal Bhatt got the opportunity of having Darshan of Shri Hari at Dabhan along with Swami Ramdasji at the will of Shri Hari.

Again arose in him a strong desire for the vision of Lord Swaminarayan. Taking the form of a Brahmin the Lord Himself went to Todla village to tell Khushal Bhatt that he would accompany him if he wanted to set out in search of God. Thus Khushal Bhatt leaving home accompanied by the Brahmin (Lord Swaminarayan) came to Jetalpur village to search Shri Hari there they had Darshan (vision) of Shri Hari Who told him "I (Shri Hari) have brought you here" spoke the Lord in the form of guide Brahmin. After having the vision he contemplated on Lord Swaminarayan and experienced the emergence of indescribable super consciousness state within him. Then on 8th day of dark half of Kartik month of Vikram Samvat 1864 Shri Hari offered Diksha to Khushal Bhatt in Gadhada, thus initiating him He blessed him with the name Gopalanandji.

Incorporated like Rama and Laxman, Lord Swaminarayan and Gopalanand Swami did many deeds full of surprise and miracles in the Holy Fellowship. After studying scriptures in Vadodara as disciple of Shri Hari he impressed the audiences by his meritorious effective preachings. 19 volumes in Sanskrit and 7 in Prakrit i.e. vernacular were created by Gopalanand Swami, which include a critical treatise of Bhagwad Geeta and on Ishavashyopanishada.

There were more than 60 saints in the group of Gopalanand Swami. Lord Swaminarayan having established the tradition of selecting cardinal chief from his own family line assigned the responsibility of acting as mediator between the Ahmedabad and Vadtal Diocese to Gopalanand Swami who looked after to the careful welfare-based management of both the Dioceses. He had ordered all the saints and devotees to obey his orders and carry out all his instructions. For 22 years after the departure of Lord Swaminarayan great saint Gopalanand Swami looked after the strengthening and spreading of the Swaminarayan way of life.

By the grace of Shri Hari and by the strength of his Ashtangyoga-penance he consecrated the idol of Kashtabhanjan Dev - the distress-destroyer God Hanumanji (Monkey-God) at Sarangpur village of Ahmedabad district, which to day stands as the proof of the spiritual strength and wealth of Gopalanand Swami. After Lord Swaminarayan had left for His imperishable abode, Gopalanand Swami took care of Holy Fellowship including the enhancement of rituals, festivals, traditions, Aarti-puja and the expansion of the highest modes of worship and devotion and fulfilled the mission for which he was born to work along with Lord Swaminarayan.

After laying a deep foundation and strict boundaries for the worship of Shri Hari-consecrated Laxminarayan Dev, Nara-Narayan Dev, the two Cardinal Acharyas, ascetics and satsangis and entire Holy Fellowship may follow the line of action prepared by the holy scriptures and Lord Swaminarayan, he gave up his material body and left for imperishable abode on the 4th day of dark half of Vaishakh month of Vikram Samvat 1908 at Vadtal. In order to commemorate this great saint a marble monument has been set up at the spot of his cremation at the holy land of Jnan Baug - Vadtal.

It has been realized by a number of holy saints that through the Lord's desire this great yogi Gopalanand Swami makes his presence indirectly felt in the Holy Fellowship at every moment even today !